Master Controller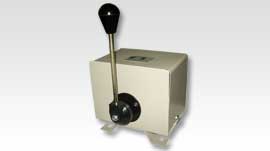 Introduction
Master controllers are used for operation of contractor's equipment controlling E.O.T. Cranes & Rolling mills drives. The controllers are made in dust proof enclosure in IP-54 degree of protection, up to 6 notches either side with maximum 24 contacts as per desired sequence with spring return arrangement & deadman's handle arrangement are available. Master Controllers are compact up to 4-0-4 step suitable for Grab-Hoist, CT-LT maximum contacts 16 per motion with spring return arrangement.
Assembly and Function
Master controllers are of cam type where in contacts are actuated by individual cams mounted on operated shaft. Master controller is housed in enclosure and provided with an easily removable cover with ample area for maintenance. The cam shaft is mounted on bearing bushes on walls of housing. The cams are made of derlin material and fixed on square.
Technical Specification
| | |
| --- | --- |
| Body Material | M.S sheet |
| Enclosure | IP-44/IP-54 |
| Mounting Position | Horizontal/Vertical |
| Rated Voltage | 500 V |
| Cable entry | 2x 20 / 2x26 Conduit |
| Thermal Test Current | 10 amp |
| Frequency of operation | 1000 switching per hour |
| No. of contacts | 24 maximum |
| No.of step | 6-0-6 maximum |
| Optional arrangement | Spring return/deadman's Handle |
| Contact Material | Silver Cadmium |
Deadman's control :
This consists of one auxillary contact of two circuit block (1 NO+ 1 NC) operated through a spring loaded push button provided on joystick handle in case of operator looses the grip over button during operation, motion will come to stop as main contactor will be de-energised.
Spring Return arrangement :
The master / cam controller can be provided with spring return arrangement whereby handle returns to the neutral position when it is released.
Features:
Wide electrical clearance

Long life

Simple in operation

Easy in installation