S.S. Punch Grid Resistance Box

S.S. Punch Grid Resistance Box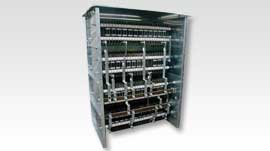 Introduction
ROLEX  make resistance boxes are designed to meet requirements of A.C & D.C. application for E.O.T. Cranes, Winches, Rubber Mills, Flour Mills, Coal Mines, Cement Mills, Power Plants, Conveyors, Coke Oven, Blowers etc. for Speed control and developing Starting Torque.
Assembly and Function
Rolex punched Steel resistance boxes Consist of Grids Punched from Nickel Chromium Steel Alloy Sheet. These grids are shock and vibration proof. These resistors are specially suited for Steel mill duty. Coal mines etc. These resistors are available in a wide range of Current ratings from 7 Amps to 800 Amps continuous. The series connection between adjacent grids is by means of copper jumpers. The resistors, after overloads of moderate duration become red hot but no damage is caused and retains their shape after overload disappears..
Technical Specification
| | |
| --- | --- |
| Body Material | G.I. Sheet |
| Enclosure | IP-44 |
| Mounting Position | Floor |
| Cable entry | Bottom |
| Current rating | 7-800 amps |
| Cooling | Air cooled |
| Temperature rise | 2250 °C / 2500 °C / 3750 °C |
Rated Value (Ohms)

Grid Type

Current rating for various duty factors(Amps)

25% ED

40% ED

60% ED

100% ED

0.010

WG 10

435

360

310

260

0.022

WG 22

295

243

210

175

0.032

WG 32

244

202

170

145

0.046

WG 46

205

168

145

122

0.068

WG 68

168

140

120

100

0.100

WG 100

138

114

97

82

0.150

WG 150

112

93

79

67

0.220

WG 220

92

77

65

55

0.300

WG 300

78

65

55

47

0.460

WG 460

64

53

45

38

0.750

WG 750

53

45

38

31

1.000

WG 1000

44

36

31

26

1.500

WG 1500

35

30

25

21

2.500

WG 2500

28

25

20

16
Features:
Economical

Less Weight

Spares Easily Available

Easy For Maintenance

Special Anti-vibration method adopted